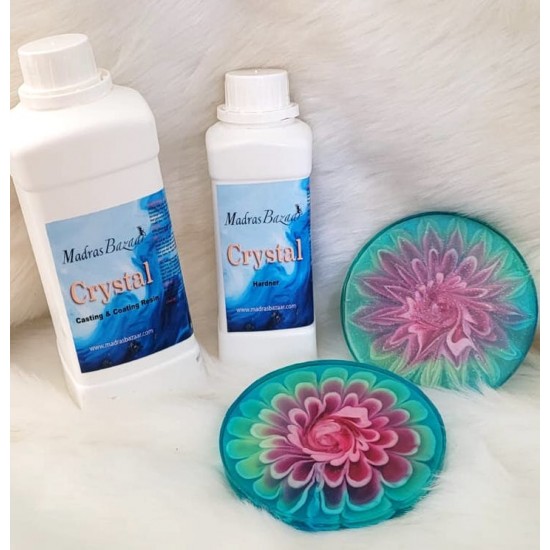 Crystal Resin
Crystal Resin
Casting Coating Resin
can be used for both purpose
Resin 225 + 75gms Hardner
PROPERTIES - Epoxy Resin
Working time (pot life) - 45Mins , High Gloss ,
Pourability-Free flowing, Self leveling ,
Shrinkage Zero , VOC's - Zero , Yellowing Resistant
Heat generation (during cure) Very Low ,Auto bubble release ,
Crystal clear, Stain Resistant, Water resistant
Measure
With gloves on, pour the resin and hardener into a mixing cup,
in the ratio 3:1 by weight.
Mix
Stir well for at least 3 minutes. Try not to incorporate air in to the systemwhile mixing.
Scrape the sides and the bottom to make sure you're beingthorough
(unmixed material will leave you with sticky spotsthat just won't cure).
Once you mix the resin and hardener, you'll haveabout 45 minutes of working
time before the resin thickens and starts to cure
Pour
After making sure your piece is level, go ahead and pour Epoxy Resinover your work.
Since it is self-leveling it will start to level on its own, and you can spread it around
into place. Let the resin run over the edges and then justuse a brush to tidy it up.
You'll notice bubbles will begin to rise to the surface.Most of the bubbles will pop on their
own, as our resin is specially formulatedto do so. You may use a hot air gun over
unpopped bubbles if required.
24hrs cure
Epoxy Resin needs to sit for several hours in a dust-free space whileit cures.
In about 6-8 hours it will be tacky but you will be able to pour a secondcoat if necessary.
In about 12 hours it will be dry to the touch, and within 16 hours it will be 95% cured.
It will be fully cured within 72 hours.
Clean Up
To reuse your mixing tools, wipe them down with a paper towel before the resin dries.
Stock:

14

Reward Points:

5

Model:

MB4647
Price in reward points: 499